Am I considering yet another computer upgrade? Yes! See, this IT world evolves so quickly that you barely get time to breath. It's been only some months since I've upgraded my GPU to the RV770 in the name of a Sapphire Radeon HD 4870 1 GB Toxic Edition and I'm already dreaming about its successor, the RV870.
However, my actual motherboard, the Gigabyte GA-965P-DS4 (Rev. 3.3) and its PCIe 1.0 interface, won't be able to fully exploit the rumoured 2.72 teraFLOPS of computational potential of the RV870 and it's already been two and a half years since I'm using that particular motherboard along with the Intel Core 2 Duo E6600. Moreover, P55 based motherboards and Lynnfield CPUs are going to be officially launched next month and that's really cranking up my enthusiasm of planning another upgrade.
On the other hand, my computer with its current setup performs very well and doesn't really need any kind of upgrade at this point but I am a computer enthusiast and I like to play games. I should already be boasting with a simultaneous multithreading capabled quad core CPU, 8 GB of ultra fast memory and the latest super heavyweight GPU in my computer. Even though I'm not craving for that extra performance, it should at least help me capitalize on my image, isn't it?
Looking at the forthcoming lineup of LGA 1156 CPUs, I'm favouring the Core i7 860 as it is the most affordable one with 4 cores and 8 threads. While that should be enough to provide more than 4 times the processing power of my actual CPU at stock speed, some overclocking will surely keep me happy at achieving a better performance and making the most out of my hardware and money.
For some time now, my automatic choice has been Gigabyte when it comes to motherboards. This is because they offer excellent quality products featuring 2oz copper based PCBs, Japanese solid capacitors, low RDS MOSFETs, high-quality ferrite core chokes and much more. This time around, I'm eyeing the Gigabyte GA-P55-UD6/5/4/4P or even the Gigabyte GA-P55M-UD4 depending on the ratio of features to price. The Gigabyte GA-P55M-UD4 has a microATX form factor but it is almost as feature rich as its high-end ATX siblings and it can prove out to be the most intelligent investment in this upgrade.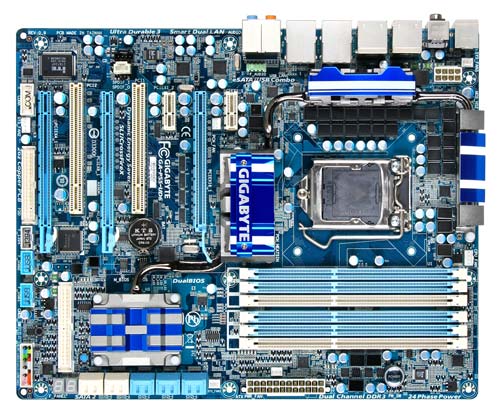 Gigabyte GA-P55-UD6
These days, Nvidia still has the highest performing GPU on the market and my previous GPU, the Gigabyte GeForce 8800 GTS 320 MB, was a very good one too but as far as I can, I'll prefer to keep my distance with the green team now. Why? Well, have a look
here
,
here
,
here
and
here
. Hilarious but so unethical, isn't it?
So, once again, I'll stick to a Toxic/Atomic derivative of the Radeon HD 5870 from Sapphire and the reason behind this lies in its superior cooling mechanism employed in its overclocked models. The Vapor-X cooling mechanism of the Sapphire Radeon HD 4870 1 GB Toxic Edition has been widely acclaimed by lots of reviewers across the web and my personal experience with it didn't bring up any negative point either.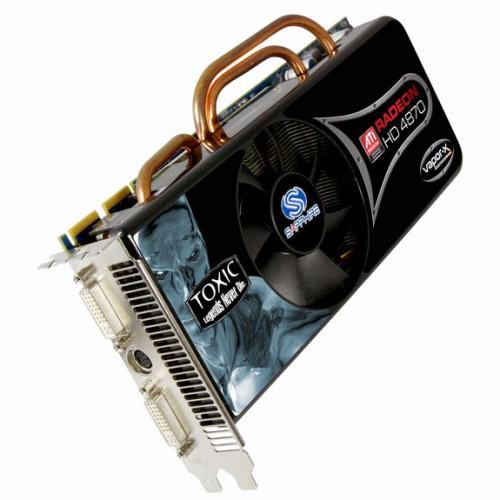 Sapphire Radeon HD 4870 1 GB Toxic Edition
That's not all though, the P55 chipset is only compatible with DDR3 memory and that means I'll have to invest in new memory modules too. I'll probably go for 8 GB of DDR3-1600/2000 in a dual-channel configuration but right now, DDR3 prices are somewhat high to my taste and I may wait till the last minute before deciding on my final choice of brand and speed.
Another item on which I may decide at a later stage would be an aftermarket CPU cooler. The Gigabyte 3D Rocket II which cools my Intel Core 2 Duo E6600 is an excellent one with a tower architecture featuring 4 heat pipes in an octahedral design through layers of aluminium fins and two fans, one at the top to dissipate heat coming from the CPU and one at the bottom to ventilate the MOSFETs around the LGA 775 socket. Unfortunately, it has now been classified as a legacy product and it won't be compatible with a LGA 1156 CPU. Nevertheless, the Gigabyte G-Power II Pro can be a good replacement as its curvaceous design combines CPU and MOSFET cooling simultaneously but the company is yet to release a LGA 1156 compatible mount kit for the cooler.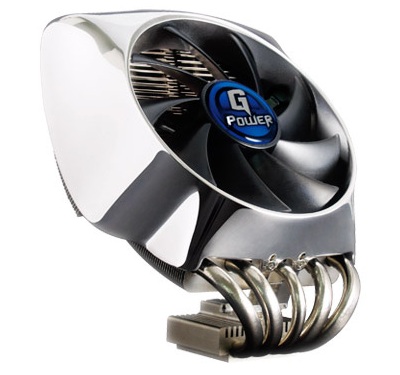 Gigabyte G-Power II Pro
That's it for my wish list. I now hope to get it fulfilled before Christmas...

Varun

Founder






---
Permissions in this forum:
You
cannot
reply to topics in this forum