In 2000, I requested mom for a new computer. She asked me for the details and I said it's an HP Pavilion 9731 costing around Rs 100,000. All she replied was: "Shut up!"
It made me sad but I never gave up and everyday I would eat her brain to get me the HP Pavilion 9731. Ultimately, she accepted and the computer finally landed in my room...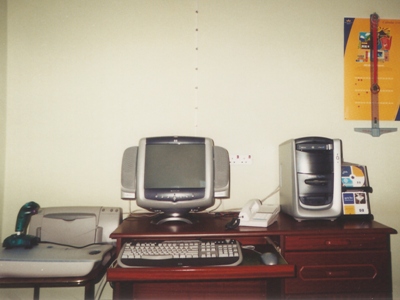 So, what was so special about it excluding the appealing brushed aluminium finish? Well, among the key components it had an Asus motherboard based on the Via Apollo Pro 133A chipset, an Intel Pentium III Coppermine CPU clocked at 866 MHz with a FSB of 133 MHz, an Infineon 256 MB SDRAM module, an Asus RIVA TNT2 Ultra graphics card with 32 MB of memory, a Creative Sound Blaster AudioPCI 128 card with a pair of Polk Audio E Series speakers, a Quantum Fireball 20 GB HDD, a LG CD-RW drive and much more. You can have a look at the detailed specifications of the standard configuration
here
.
Mind you, those components were of enthusiast level as Pavilion was the flagship model of HP at that particular time. Nowadays, Pavilion has been relegated to the low-end and mainstream segments while Blackbird/Firebird has been positioned as the high-end model.
Just too bad that I don't have any benchmark graph to show you the performance of that beauty. Nevertheless, it was on that particular machine that I've learnt my trade. Have I had any other computer in its place, then may be this website and my passion for computing wouldn't have seen the day. The chemistry that existed between me and that computer brought me to where I am today.
I still remember how I used to call friends and relatives at my place just to show them my HP Pavilion 9731. At that time, Mauritius was an immature country when it comes to the computer industry and to have owned such an out of the ordinary computer, it was quite something.
What I remember most were the gaming and audio playback capabilities of the computer. The RIVA TNT2 Ultra from Nvidia was the first GPU to offer higher quality feature-set (E.g: 32-bit color in 3D) than its competitors like 3dfx Voodoo3, Matrox G400 and ATI Rage 128. The Creative Sound Blaster AudioPCI 128 card coupled with the Polk Audio E Series speakers would flawlessly deliver high fidelity sound even at maximum volume. May be it lacked a little in bass and that was the only drawback for a teenager's sound system.
Also, I was the only one in the neighbourhood to have a CD writer. Every now and then, people would come to me to burn some CDs for them and during that time, I made some money which was helping me to pay my exorbitant dial-up internet bills.
I'm writing this article with a very nostalgic mood and it comes at a time when I've recently upgraded my hard drive storage capacity to 2 terabytes. Even for me, it's hard to imagine how my need for hard drive storage capacity has grown up to a 100 hundred times larger in less than a decade. Now, the most interesting part of the story is that I was a complete newbie when I got the HP Pavilion 9731, I knew nothing in computing. Can you believe it? Nothing!
That wasn't all... Some people thought I must be some kind of genius to be using such a computer, which was at the cutting edge of technology and they would come to me for counselling and even repairs. Paradoxically, I would accept those works, do my research, perform the needed tasks, return the computers to their owners and earn big money with praise.
With time, I've gained experience, knowledge and something very precious... My identity!

Varun

Founder







Similar topics
Well, at that time I used to buy/borrow lots of automobile and audiovisual magazines. One day, a friend gave me two computer magazines and told me that being a tech lover I would love reading them. I took them and went through their pages once at home.
In one of those magazines, there was a basic review of an HP Pavilion and it quickly attracted my attention. After reading that particular article I came to know that HP Pavilion was one of the most powerful OEM machines of that era and was much better than its closest rival, the Compaq Presario.
Of course, there were boutique PCs of bigger pedigree like Alienware and Falcon Northwest but they were unheard to me at that time.
Moreover, the HP Pavilion had such a look that really made it stand out against the likes of Vectra and Brio (HP's inferior models).
To convince mom wasn't such of a headache. I only needed to pester her for some days because dad too always strived for the best and mom got contaminated with his habits. I still remember when the masses used to buy JVC TVs/VCRs in Mauritius in the 80s, mom placed special orders for a 21-inch Sony Trinitron 3 System TV and a National L150 VCR. So, in the end it wasn't so difficult for me.


---
Permissions in this forum:
You
cannot
reply to topics in this forum